Boat Covers
Boat Covers protect sailing boats from damage from the rain, wind and ice. Most boats should have one and if not, you should buy one right away, because you don't want your expensive boat to just rot away.
They are usually found at good boating shops, but make sure that the class of boat you have is popular enough to warrant a rack of boat covers. If all else fails, just do what you do when you are trying to find a hard to find item...go on eBay!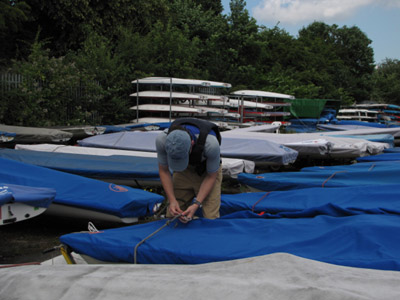 eBay will usually have all sorts of boat accessories like boat covers and you should always check it out, because they usually have much lower prices than what you will find in the shops.
Boat covers for some reason are usually blue and fit the contours of the boat that it comes with. They usually have under straps that fit underneath the boat to hold the cover to the boat. They have holes for the forestay and shrouds.
On Mark's boat, he asked for extra long material so that he could protect the deck from bleaching at no extra cost. They are very useful and only take a little bit of extra time when putting the boat away. However whether or not they help, we will have to find out later.
The extra material is also useful, for wet weather when the material reduces in size (like clothes in a washing machine) and so it is hard to put the cover back on.
These useful accessories for the boat cover may seem insignificant now when you don't need them, but if you do need them, you will wish that you had decided to ask for zxthem!

---
Return from Boat Covers to Sailboat Accessories
Return from Boat Covers to Started Sailing