Sailing Tips
When racing, sailing tips and strategies are so important so that you can really get ahead in your sailing fleet.
Some of these can be learnt by experience and others by pure skill. However I have found that the best way to learn strategies in order to improve your sailing is from others.
Talking to other experienced sailors is very important in order to improve you sailing and be on a more level playing field.
Therefore I have built some strategy pages for tips that I believe are very important, simple and easy to do. These are all written by me and are very good techniques to use to get better at racing.
---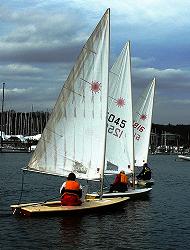 Wind Shadowing
This is where you place you boat windward of another boat in order to take their wind and slow them down. A very simple and effective technique!
Recommended Books
RYA Tactics

An easy to understand guide that genuinely helps to build an understanding of how to strategise and create tactics for racing whilst on the water and the relevant variables considered. Not in anyway patronising, just useful.
---
Return from Sailing Tips to Started Sailing