Sailing in Greece
Sailing in Greece is one of the most amazing things you can do. It is one of the top destinations for a great sailing holiday and I have sailed their myself twice and so decided to give the area its very own page so that I can talk about my very different experiences.
I have both sailed dinghies and sailed yachts in Greece on the two islands of Corfu and Lefkas. These are both on the side of the Adriatic and are both subject to winds in the region of Force 3 all the way up to a Force 6!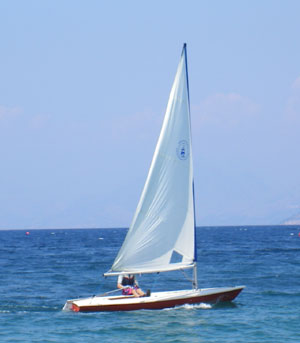 If you haven't been to Greece yet for a sailing holiday, check out my experiences below and make up your own mind if you want to sail at this breath-taking destination.
---
With winds above Force 4 almost every afternoon, Corfu was the perfect place for intermediates and advanced sailors with one day reaching a high of Force 6. However the mornings are substantially calmer (around Force 1-2) and so perfect for sailors who aren't yet ready for the stronger winds or complete beginners.
Read my story of the entire adventure, tips on the area and things to see as well as a personalised account of the equipment and staff.
My rating for this area is 4 stars out of 5
My first proper sailing holiday with Sunsail and I had an absolute amazing time when I did it about 2 years ago at their Vounaki Club. This area had calmer winds than the others (around Force 2-3), but a huge range of equipment from Laser Picos to RS 800s!
Certainly a place for all types of sailors looking to become better with their Improver sessions or becoming RYA Level 2 qualified in Monohulls or Multihulls!
My rating for this area is 5 stars out of 5
---
Return from Sailing in Greece to Started Sailing