Sailing in Vounaki
Sailing in Vounaki with Sunsail was our first proper sailing holiday and boy did I enjoy it. Sunsail is one of the, if not the greatest sailing holiday provider - as long as everyone in your family like sailing!
As a sailing enthusiast (this was in 2007, when I was 15) and having has 2 years worth of sailing under my belt, I was the keenest of us all. Ollie, my brother wanted to try out windsurfing and we all wanted to try out taking a yacht charter.
The holiday itself was two weeks in Greece, with one week at Sunsail. We drove from Lefkas (the island we were on before) to the resort of Vounaki on the Sunday. We had arrived ahead of all the crowds of other guests and so were allowed to wander.
I decided to do some sailing and chose a Laser Pico to start with. The sailing in Vounaki was good with winds there reaching around Force 2 in the morning, climbing to Force 3-4 in the afternoon. So not bad for an intermediate!
Later on in the holiday, I decided to be more adventurous with their equipment and found my favourite high performance boat, which was the RS Vario.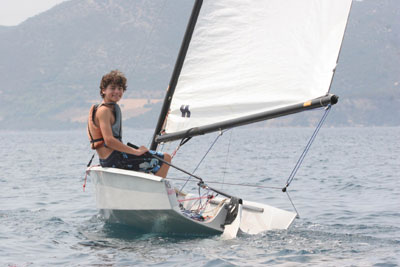 I sailed this practically every day after finding it. I will put together a review in the Types of Sailboats section soon.
Apart from sailing dinghies, I took part in the other activities available.
At one point, we rented out a yacht for the day. It was great fun and although there was little wind in the area we were sailing in at that time, we were able to use the motor and island hop for the day.
None of us had any certificates of competence for yachting (as we had never done it before), and so we enlisted the help of a guide whose name was Tim and worked for Sunsail.
It wasn't a luxury yacht charter by any means, but it was still very fun and large enough to stretch your legs (well at least my Mum did when she sunbathed on the deck!).
My brother and I took it in turns to steer. Unfortunately, since it was a small 30 footer it only had a tiller, when I was expecting a big wheel like the ones I had seen at the London Boat Show that we went to before
However in spite of this it was still enjoyable to travel at 6 knots and be able to steer the magnificent craft through the calm waters.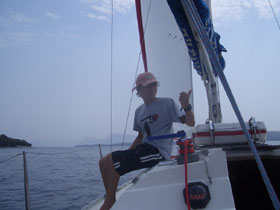 Our guide Tim, taught us some nautical map skills, such as taking 2 bearings to find your exact location and understanding tidal marks (at that age, I had never had to worry about the tide before).
When we reached an island around 6 nautical miles away (about 6 normal miles or 9.6 kilometres), Tim handed me the controls and walked me through a stern-to landing (where you reverse into a tiny gap between two other large yachts). It was hard, but I managed it and the boat remained unscathed.
We then had a nice meal and started the journey back to the resort in Vounaki. We tried to do some motor sailing, where you try to use the apparent wind, created whilst motoring, to sail. It failed unfortunately as there was still little wind (and the apparent wind was too far forward), but it was an enjoyable trip nonetheless.
Apart from this, Ollie and I frequented the teens club labeled 'The Beach Team'. It was for people between 13-17 (My brother just managed to get in having had his birthday days earlier).
It was enjoyable with free water skiing, wakeboarding and ringo rides as well as other activities. As well as this it gave us the chance to socialise on holiday in a place that you would see them all the time.
In this photo, we were racing three legged in pirates clothes. Guess where my brother and I are: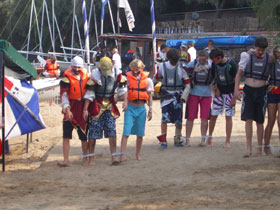 This was a great friendship builder and we visited people we had seen at Vounaki after the holiday. If you have teenaged kids, this is a great thing for them to do. If you have younger kids, Sunsail provide for them to with other clubs.
Ollie didn't particularily like sailing in Vounaki at this point, but wanted to try out windsurfing and wakeboarding. I hadn't been in a multihull since Corsica and had forgotten the bare essentials.
We both took 2 day courses in these activities both ending up RYA Level 2 qualified (for me it was in Mulithulls). This is a great thing to do, if you can't find a sailing school or it is prohibitively expensive there.
Ollie, finally proficient on the second day of learning: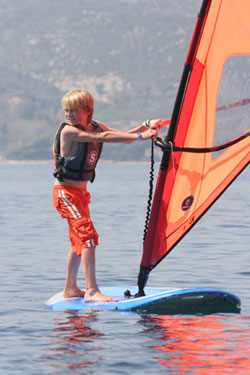 Sailing in Vounaki with Sunsail was one of the best holidays I have ever done. It has everything that I wanted out of it: Great Sailing, Fun Socialising and Beautiful Environment.
The one thing that we did find not up to standard was the food, which looked like it was being served out of a school canteen (in fact you had to stand up with a tray and get it). Certainly not for the gourmet food eaters.
However it had two bars inside the resort and a small town not far away with good restaurants.
Also if you don't like sailing (like my Mum) at all, there is little else you can do. Sunsail try to provide with things like biking, tennis and swimming aerobics, but it doesn't really cut it. If you are looking for a relaxing holiday, don't do Sunsail.
As well as this, be prepared to socialise (another one of my parent's pet hates). Many families return year in year out to Sunsail's clubs. If you don't like small talking with strangers, Sunsail might not be for you.
In conclusion, if you are a family looking for a sailing holiday, Sunsail is the best experience you will have. Definitely gets 5 stars out of 5!
If you would like to find out more about Sunsail and sailing in Vounaki, visit there website: http://www.sunsail.com

---
Return from Sailing in Vounaki to Sailing in Greece
Return from Sailing in Vounaki to Started Sailing