Dinghy Plans
These dinghy plans are for general purpose sailing boats with a length of less than 18ft. They primarily have one or two sails (maybe three) and will be quite light weight when compared to larger boats.
Don't expect these boats to be particularly fast or large, but they are great for kids and it will be a brilliant summer project for a family to do.
Contents
Click the links below to immediately get to the boat you want.
---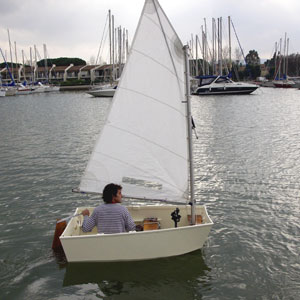 5ft Deckster
LOA = 5ft7in (1.70m)
Beam = 3ft6in (1.15m)
Weight = 66lbs (30kg) approx
Sail Area = 25sq.ft (2.5 sq.m)

Peddle it, row it, motor it, sail it and stow it! The all new Deckster stowing dinghy does it all. The optional removable bow section allows this dinghy to find even a home on the smallest of cabin tops. Thanks to it's innovative and well thought out design it is more capable than many other much bigger boats.

Price: £30 plus P&P
---
9ft Cockle
LOA = 9ft (2.74m)
Beam = 4ft5in (1.35m)
Draft = 7ins/1ft10ins (0.175m/0.58m)
Weight = 100lbs (45kg) approx excluding rig, daggerplate and rudder
Sail Area = 44sq.ft (4.08 sq.m)

A rowing and sailing pram dinghy for stitch and tape construction using 6mm plywood. Drawings include: hull lines plan, hull panel offsets, full size frame and transom patterns, full size rudder and daggerplate patterns, general arrangement/construction drawing and sail plan and spar drawing. Drawn to metric scale.

The dinghy plans are fully dimensional and provide scantling details throughout, but do not include step by step instructions.

Price: £75 plus P&P
---
11ft Coot
LOA = 11ft (3.35m)
Beam = 4ft7in (1.4m)
Draft = 6ins/2ft7ins (0.15m/0.79m)
Weight = 230lbs (104kg) approx in sailing trim
Sail Area = 70sq.ft (6.5 sq.m)

A 'Swallows and Amazons style' rowing and sailing dinghy intended for glued ply clinker (6mm ply), cold moulding, or strip planking. Drawings consist of hull lines plan with table of offsets, full size frame patterns, general arrangement/construction drawing, sail plan and spar drawing (including alternative lugsail rig) with rigging details and fittings list. Drawn to imperial scale.

The drawings are fully dimensional and provide scantling details throughout, but do not include step by step instructions.

Price: £75 plus P&P
---
12ft Mallard
LOA = 12ft (3.35m)
Beam = 5ft (1.52m)
Draft = 6.5ins/3ft1ins (0.16m/0.94m)
Sail Area = 88sq.ft (8.2 sq.m)

Originally designed for The Boatman magazine, Mallard is a larger sister to Coot and intended for similar methods of construction. Drawings consist of hull lines plan, full size frame and transom patterns, general arrangement/construction drawing, sail plan and spar drawing with rigging details, full size rudder and centreplate patterns and fittings list. Drawn to imperial scale.

The drawings are fully dimensional and provide scantling details throughout, but do not include step by step instructions.

Price: £75 plus P&P
---
Return from Dinghy Plans to Sailboat Plans
Return from Dinghy Plans to Started Sailing