The GP14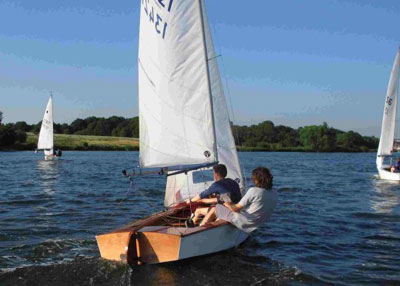 The GP14 is the sailing boat class that I sail at the Welsh Harp, North London.
It is a 4.2m (14ft) boat that was developed between 1949 and 1950 and was designed by a man called Jack Holt.
It is a boat crewed by two people, a helm and crew.
Around 14000 have been built from the shipyards and the class is well known and active in the UK, Australia, Ireland, South Africa and Sri Lanka.
It is quite heavy compared to most performance boats (133kg), but very stable, making it an ideal choice for people of all talents.
The idea behind it was to create an all purpose boat that could be used to race, row or cruise.
As well as sailing it can also be powered by a small outboard engine.
The boats are available in three different materials: wood, FRP or GRP.
Mark owns a wooden boat that has been varnished.
Others have FRP boats and GRP boats that are white.
I quite like the aesthetic look of the wooden boats, but they are much harder to maintain and much more expensive to buy.
There is a class international association called the GP14 Association.
The symbol for the boat is a bell.
This is because the original manufacturer was called Bell Seagull and Seamew Cruisers and is in reference to them.
By the way the photo is of Mark's boat racing on the Welsh Harp.

---
Return from GP14 to Sailboat Reviews
Return from GP14 to Started Sailing