Small Catamarans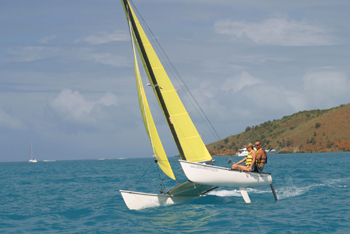 Small Catamarans such as the Hobie Cat are incredible with its twin hulls and ferocious speeds in strong winds. It is one of my favourite types of sailboat and I always love going out in it.
The boat is a multihulled catamaran, which makes it different from other boats. First thing different is that it has a traveller like sailing yachts do, although instead of being on the genoa sheet, the traveller is on the mainsheet.
The reason for the traveller is to change where the main is without changing the sail shape. It acts like a kicker and mainsheet rolled into one and is especially useful in strong winds.
Another big change is that there is alot of space to move around in the boat. There is a plastic fabric netting that covers the area between the twin hulls. Its great to look down at the sea and see the waves sloshing around. It also lets you stretch your legs out!
There is also no centreboard as the twin hulls counteract the force of the wind and keep the boat heading in the right direction.
The Hobie Cat does not have a genoa and instead only has a small gib, because the main sail is so large, the gib doesn't really do much and you can sail without it.
The tiller extension is very long and there are two rudders (one on each hull). The tiller extension is so long, because the catamaran has the ability to hike out. This is also great fun and I highly recommend it to those who haven't yet tried it out. You need to wear a harness, but it is still alot of fun!
The only big problem with the boat is that even a small amount of rudder change can cause the boat to come to a dead stop (although useful in man overboard situations or emergency stopping) and so the tiller should only be moved a little bit.
It also takes sometime to accelerate to an exciting speed, which can be a little boring, but it is definitely worth the wait. It is also very slow on a training run and dead run, because it does not have a spinnaker and there is not enough sail area (as there is only a pitiful gib).
Small Catamarans like this are great fun for the kids and adults to. Hobie have a great reputation and it is one of the best classes to sail for beginners, intermediates and even experts looking for an extra challenge.

---
Return from Small Catamarans to Catamaran Sailboats
Return from Small Catamarans to Started Sailing