Topper Sailing Dinghy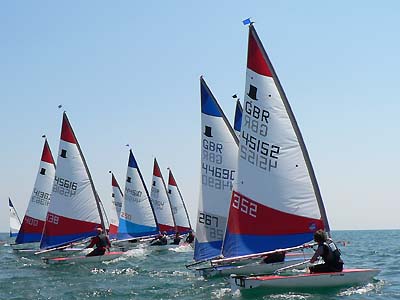 The Topper Sailing Dinghy is usually used as an advanced training dinghy for children. It is usually a single handler, but can have two persons on board, but with only one sail, the other person wouldn't be doing very much!
It is a very small boat - only 3.4m long - and is very light - only 43kg! It is an international class and is the official youth class of the RYA.
The Topper was designed by Ian Proctor and the mould development was carried out by Maple Plastics in 1977 who originally built it using glass reinforced plastic, but was re-made to be made of injection moulded polypropylene in the early 1980s.
The new hull is very damage resistant, which is good as kids rarely obey traffic rules, and means that it really has good value for money when compared to boats that constantly require maintenance.
It is very popular at sailing schools in the UK and if you have children who are learning to sail, they are likely to be using the topper sailing dinghy at some point in their learning.
At the Welsh Harp, Harp Young Sailors (the youth sailing school) uses toppers extensively for more advanced kid sailors who really wish to improve their sailing.
It is also designed to be able to be placed on car racks and the mast is made up of two sections allowing it to be broken in half and stored separately.
There are also many regattas and open meetings around the world for kids to get involved in and is a great introduction to sailing as a competitive sport rather than just a cruise.
I thoroughly enjoyed sailing this boat when I was younger, unfortunately, I can't fit in it anymore, but I would advise any young teenager or child considering learning to sail to get right into it and eventually you'll be sailing one of the top youth classes in the world.

---
Return from Topper Sailing Dinghy to Sailboat Reviews
Return from Wayfarer Dinghy to Started Sailing