Sailing in Israel
Sailing in Israel was disappointingly not particularly exciting with relatively light winds along with a very choppy sea. In fact this area is better known for its surfing than its sailing. The waves can be huge (well to me they looked huge, probably to any surfer they were pretty ordinary).
I ended up trying out surfing for the first time and managed to stay on the board, but kept falling of every time I tried to stand up. It was quite embarrassing and by the end of the weeklong trip, I still couldn't stand up.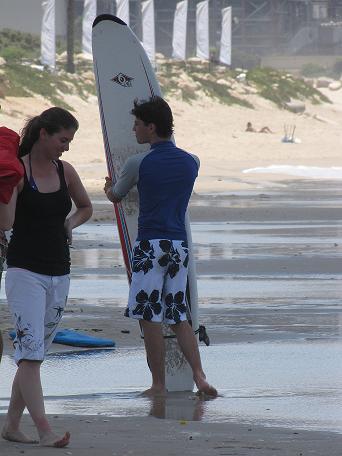 We were in Israel for a three week holiday, although only 1 week of that was spent by the sea in the resort town of Caesarea, on the west Mediterranean coast between Haifa in the north and Tel Aviv in the south. It is a small town with a population of around 4,500 people and was around in ancient times.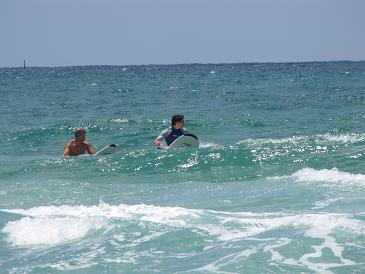 We spent time around the country, visiting family and going to places like Jerusalem, the Dead Sea and the Sea of Galilee. The Dead Sea was very cool, because you can actually float on it. I wonder what a boat would do on it, it would probably be like a hydrofoil, sailing above the water!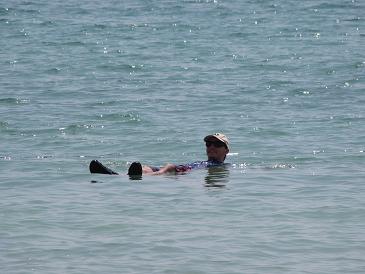 It was very hot, around 35-40 degrees at midday, and so sport perhaps should not have been at the forefront of my mind. But where there is water, wind and a boat, you will always find me sailing.
The sailing centre itself was in a kibbutz called Sdot Yam and was quite small compared to what I was used to. To be honest, it was more of a surfing club. They had kite surfing equipment (which my brother actually tried and got dragged up and down the beach by a huge kite sail that was quite funny to watch), surfing boards and windsurf boards along with a couple of catamarans.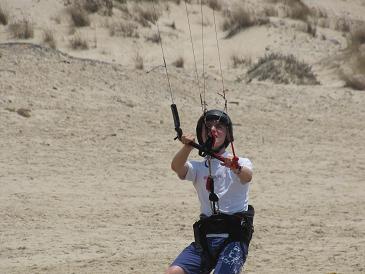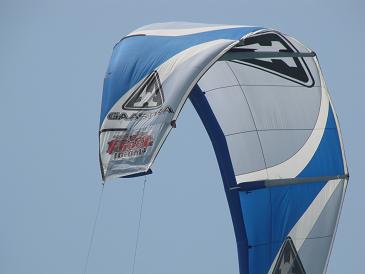 In fact it was quite difficult to even find this place, as sailing is not a particularly known sport in Israel. Coincidently, Haifa was hosting the international 420 sailing world championships, which may prove me wrong and perhaps we were at the wrong place.
Anyway, I managed to book one of these catamarans for a one hour session. However in my timed slot, we ended up having to rescue a windsurfer who had collided with some rocks. This tested my sailing skills a little, because I had to harness this unwieldy craft and make it stop at the right point so that I wouldn't crash into the rocks or the surfer. Also there was the wind to consider, which was blowing the boat towards the rocks and so we had to get out of there fast. Luckily, the windsurfer was okay and we took him back, before continuing sailing.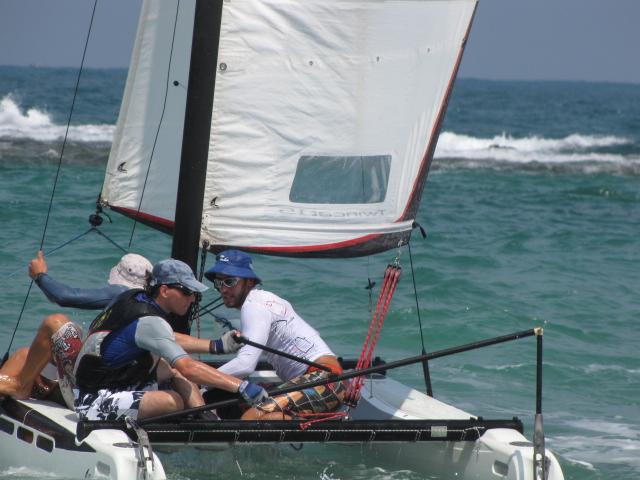 The wind wasn't too strong (Force 2ish) and so we only managed to get the catamaran heeling onto one sponson a couple of times. Also I hiked out with a trapeze at some points, although the wind wasn't really strong enough.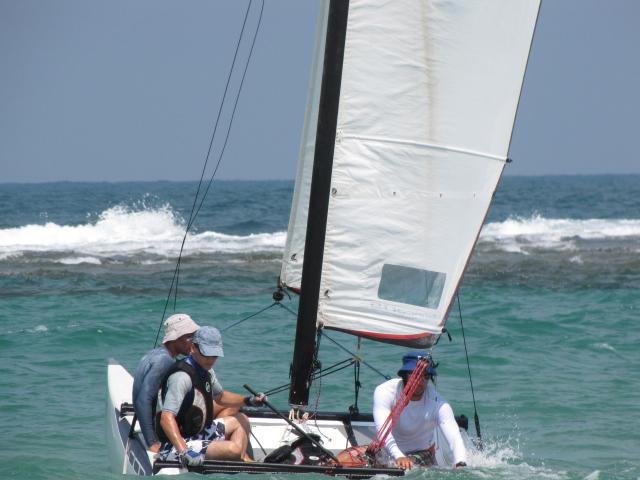 I ended up spending most of the time trying to improve my surfing, but unfortunately to no avail. I would recommend Caesarea for any sort of surfing, but if you want to go sailing in Israel, I wouldn't really bother.
If you would like to learn more about sailing or surfing in Sdot Yam, Caesarea, Israel, then see their website: Wind.co.il

---
Return from Sailing in Israel to Holiday Sailing
Return from Sailing in Israel to Started Sailing