SailMaster - January 2010 Issue

Welcome to the
January Issue
of SailMaster - StartedSailing.com's Monthly Ezine, filled with information on tips, tricks, techniques to improve your sailing as well as stories and my experiences this month!
Welcome to our new subscribers! We welcome you and look forward to you being a part of our growing sailing community!
If you like this Ezine, please 'pay it forward'. Pass it along to a friend or family member who is interested in Sailing/Boating/Yachting. They will thank you for it! To pass it on just email them and ask them to look at "https://www.startedsailing.com/sailmaster-220110.html".
If a friend forwarded this to you, and you like what you read, please subscribe by visiting..."https://www.startedsailing.com/sail-magazine.html".
Best Regards
Alex Dotsch
---
In This Issue...
If you don't have time to read the whole ezine, click on the topic that interests you. This month you will find:
---
Editor's Note
Thank you for reading the January Issue of SailMaster.
Happy New Year! I hope you all had an enjoyable new year and that over the past month, you have managed to find time for sailing! Or if like myself, you found yourself waist deep in snow and unable to get out of the house, then get ready to get back into sailing.
I am currently fully engaged in exams right now, with 3 done, 3 to go and that is the reason this newsletter is so late as well as the reason I have had to find some other interesting article to show you, instead of writing my own and I apologise for that. However, I have managed to make some upgrades and modifications to the website, such as adding a the Getting Started Sailing ebook to the newsletter sign up bonuses (you can find here) as well as upgrading the Sailing Directory that had been fizzling away in the background, but now has a new place on the right sidebar and already lots of people are listing their sailing websites for free.
Since the website is essentially an on going project, I will be upgrading lots of parts of it on a continuous basis, by making areas more accessible, easier to read as well as just updating information and creating new pages. Keep an eye on the Sailing Blog for more information.
But to keep your curiosity fully nourished, my current new parts of the site are a sailing fitness section (where people can find exercises and workouts to get fitter and stronger and so sail better) as well as my own personal blog in which I will broadcast my sailing exploits every Wednesday and Saturday.
I am always looking for ways to improve the site. If you see any errors, have any ideas or would like to contribute in any way, please contact me!
Till Next Month,
Alex Dotsch
---
Article - Learning to Sail With the RYA Sailing Scheme
By Melody McKay Burton
Have you ever dreamed of sailing a yacht? It could be easier than you think to get into the sport. Once a pastime only for the rich, you too can now go yachting.
Flotilla companies and cheap flights have popularised sailing just as budget ski resorts brought skiing within reach of thousands.
The UK is home to one of the best training organisations for recreational sailors - the RYA (Royal Yachting Association).
RYA training is respected throughout the world. Its popularity comes from:
The quality of its teaching materials, which are clear, concise, and well illustrated;
The high standards required in order to qualify to teach RYA sailing courses;
The fact that all training is done in English, the international language of communication;
The strict inspection which sailing schools / training centres undergo to become recognised;
The ongoing monitoring of standards that training centres and instructors undergo annually.
The RYA syllabus includes courses for everyone from total novices up to those who want to obtain the coveted RYA Yachtmaster Ocean and Yachtmaster Offshore certificates. The RYA Yachtmaster qualification is the de facto standard for working as a professional skipper or instructor. Certificates are available for both Sail and Power.
If you want to learn to sail or to improve your existing skills there is no better place to start than at an RYA recognised training centre. The RYA has 2,200 recognised training centres in more than 23 countries.
Most RYA practical sailing courses are five days long and you live on board during that time. You'll be taught about and expected to join in all activities, including steering, handling ropes and sails, and making food and drinks.
The majority of people join a group course. The RYA specifies a maximum of five students per instructor so you will get plenty of individual attention. Many students attend alone; others choose to learn with a friend or partner. Alternatively you can arrange private tuition for yourself, your family, or friends.
RYA instructors are skilled at turning even a group of strangers into a crew all working together. This sense of unity of purpose is one of the pleasures of sailing.
As well as practical courses the RYA syllabus includes theory courses. These can be taken in a classroom, by distance learning, or on-line. Theory courses available are navigation at four different levels from Basic to Celestial, Marine Radio, First Aid, Sea Survival, and Diesel Engine maintenance.
Each theory course is accompanied by materials of the same high standard that have helped to make RYA practical training the best you can get.
You will find details of all RYA training centres world-wide on the RYA web site and you can search for one near to you.
Alternatively, if you live in a cool country, but would prefer to learn in the sunshine, there is no shortage of sailing schools based in warm climates to choose from. It is often easier to persuade a reluctant partner to join you on a course in Greece or Spain than off the coast of England, for instance.
But be warned. Whether you start sailing in the UK or abroad, as any RYA sailing school will tell you - sailing can be both addictive and life-changing!
About the Author: Melody McKay Burton is Director of Aegean Sailing School
---
Funny of the Month
How Sailing Addicts Commute To Work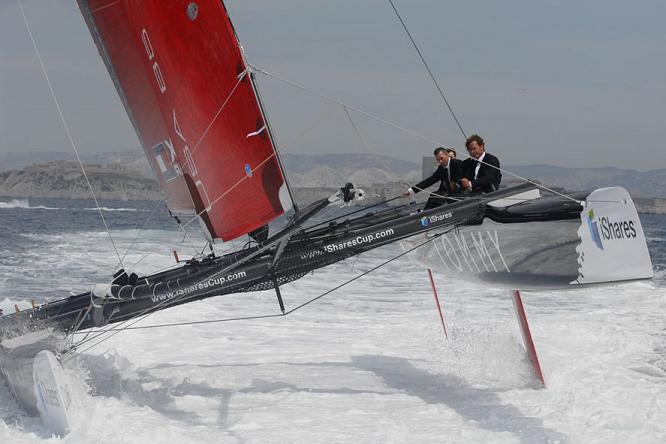 ---
New Pages on The Website
Sailboat Plans
- Find all the free and paid sailboat plans around with boats less than and over 12ft listed here, with the links to where you can acquire them
See all the rest at my Started Sailing Blog!
---
Thank you for reading the January Issue of SailMaster! I hope you enjoyed it as much as I enjoyed writing it! Please feel free to contact me with any questions about this issue.
If you enjoyed this issue of SailMaster, please feel free to send it to any friends or family and ask them to subscribe on my website.
Best Regards
Alex Dotsch
PS. Want to check out back issues of the SailMaster? - Click Here

---
Return from SailMaster January Issue to Sail Magazine
Return from SailMaster January Issue to Started Sailing