SailMaster - June 2009 Issue

Welcome to the
June Issue
of SailMaster - StartedSailing.com's Monthly Ezine, filled with information on tips, tricks, techniques to improve your sailing as well as stories and my experiences this month!
Welcome to our new subscribers! We welcome you and look forward to you being a part of our growing sailing community!
If you like this Ezine, please 'pay it forward'. Pass it along to a friend or family member who is interested in Sailing/Boating/Yachting. They will thank you for it! To pass it on just email them and ask them to look at "https://www.startedsailing.com/sailmaster-150609.html".
If a friend forwarded this to you, and you like what you read, please subscribe by visiting..."https://www.startedsailing.com/ezine.html".
Best Regards
Alex Dotsch
---
In This Issue...
If you don't have time to read the whole ezine, click on the topic that interests you. This month you will find:
---
Editor's Note
Thank you for reading the June Issue of SailMaster.
I am sorry that there was not a May issue of my newsletter, because I was on study leave revising for my AS exams, which I finished today.
I have however managed to continue sailing throughout this hectic time on my life and have also managed to post as many of your submissions as possible, so much that I am considering moving the Ask The Expert bit back to its orignial page (I moved it in the first place so it would get more submissions. I have been receiving one almost everyday and all though not all of them I allowed to be submitted, I let most of them through.
I will also begin updating the site, changing its structure as well as doing a massive expansion on the yachting section of the site, which I said I would do in my last Newsletter, but never got round to it due to the exams.
Just to ask for forgiveness one more time, I will reveal in my exclusive article one the ultimate tips to going faster, one that many people don't do and is the cause of people going slowly: Slot Theory. Enjoy!
I am always looking for ways to improve the site. If you see any errors or would like to contribute in any way, please contact me!
Till Next Month,
Alex Dotsch
---
Exclusive Article - Slot Theory: The Ultimate Speed Tip!
Ever wondered why the people in the front of the fleet always come first? Or why you just never seem to match the incredible speed that they seem to be going at?
No more!
Most people seem to think that when they are going upwind, they should just pull in the genoa as tight as they can and then just move their weight around as usual. Not so!
Okay, enough with the dramatics. They are using the Slot Theory.
Slot theory is a little piece of aerodynamics that can make the boat go up to twice as fast if used correctly, upwind. This primarily focuses on the crew, but the helm can also help slot theory work.
Basically the 'slot' in slot theory is the area between the genoa luff and the bottom front of the mainsail.
Have you ever wondered why this part of the mainsail seems to flap when you go upwind?
The reason is that you have the genoa in too tight. If the genoa is in too tight the aerodynamics of the whole sail system falls apart as the air molecules are sent in all directions instead of providing the force of lift that the sail needs to work (this is why the mainsail flaps).
By letting out the genoa a little bit (about an inch and a half to two inches off the spreader on the leeward side) will allow the slot to operate at maximum efficiency and thereby let the air molecules operate on both the genoa and the mainsail doubling speed.
The helm can also help slot theory work, by pulling the mainsail even more as this will increase the slot thereby increasing speed, however in stronger winds this is likely to increase heel.
The slot will change according to wind strength, so in gusts and down patches the slot will increase (so pull it in a bit) and reduce (so let it out a bit). As you can see it requires constant maintenance and only by doing this will you get the most power out of your sails. This is what the term 'working your sails' is all about constantly adjusting them to their optimum in the current conditions and wind direction.
So by utilising slot theory, you will be able to go faster upwind in any wind condition (this is also why experienced sailors tell you to let out the genoa in little or no wind - to increase the slot size) and thereby get to the front of the fleet, faster than you can capsize!
---
Funny Of The Month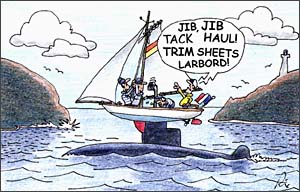 ---
New Pages on The Website
Unfortunately none, but I am working on new ones right now!
---
Ask The Expert Questions
Can you answer any of these? Or do you have any of your own? Please check out our
Ask The Expert Page
.
Please do get involved and ask questions as well as answering them and commenting on them so that we can try to build a read community of sailors who help each other out at the same time as learning new things.
If you don't have a question, but an experience to share, please Share Your Sailing Experiences!
---
Thank you for reading the June Issue of SailMaster! I hope you enjoyed it as much as I enjoyed writing it! Please feel free to contact me with any questions about this issue.
If you enjoyed this issue of SailMaster, please feel free to send it to any friends or family and ask them to subscribe on my website.
Best Regards
Alex Dotsch
PS. Want to check out back issues of the SailMaster? - Click Here

---
Return from SailMaster June Issue to SailMaster Ezine
Return from SailMaster June Issue to Started Sailing